Turkey's native robot automation system will compete in iF Design Award 2021
Turkey's native robot automation system will compete in iF Design Award 2021
Ten thousand projects from 52 countries participated, Cubebox from Turkey made it to the finals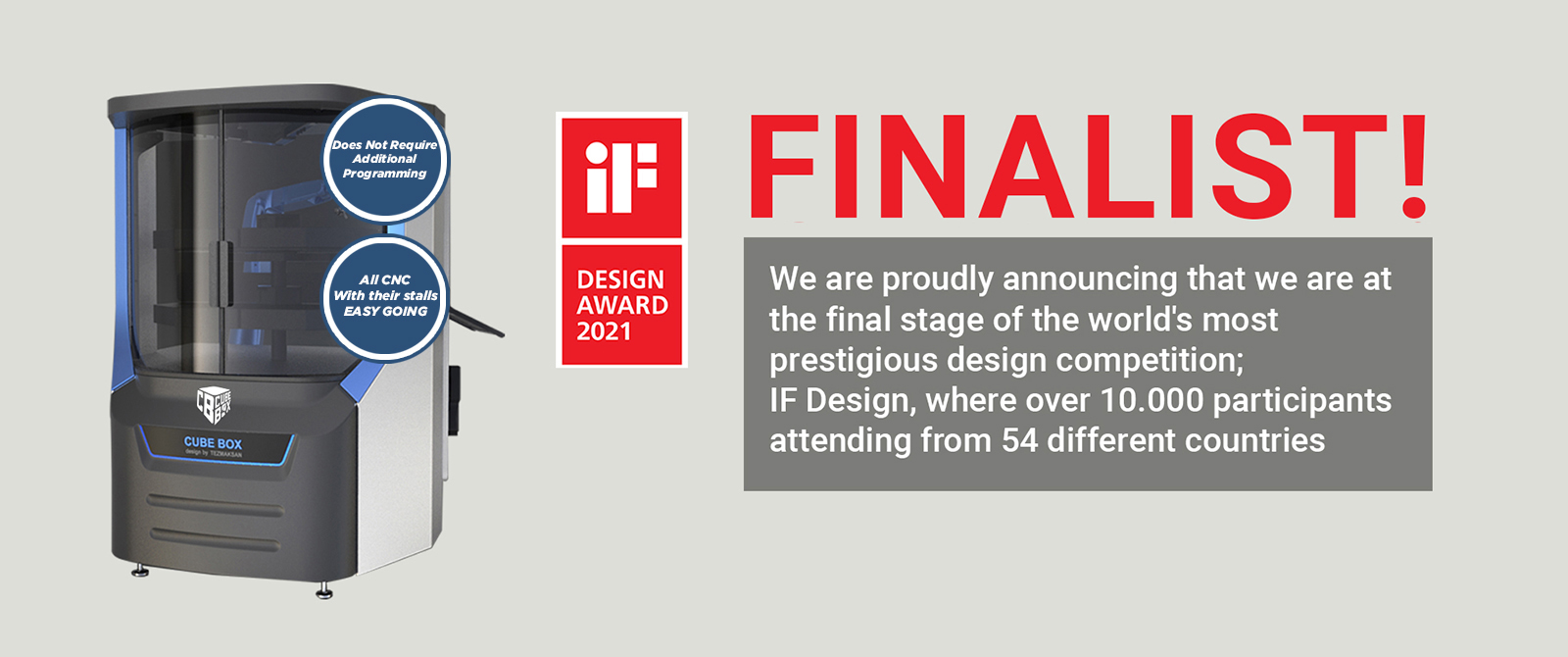 The finalists of iF Design Award 2021, the world's most prestigious competition since 1954, have been announced. This year, 10 thousand applications which present innovative solutions with strong design aspects were evaluated, and Cubebox produced by Tezmaksan, remained in the finals among participants from Turkey. Cubebox, the robotic automation system that made it to the finals by getting pretty high points from four of the five main criteria of the competition, determined as "idea, adequacy, form, aesthetics and functionality", provides all day uninterrupted working and 50% productivity rise to firms under the sector of production manufacturing specialized in mainly automotive, defense, aviation, medical and machinery manufacturing.
Cubebox, the domestic and national robot automation system developed by Turkey's technology partner Tezmaksan with an investment of 950 million dollars, achieved a great success by attracting huge appreciation at the most prestigious, global event iF Design Award 2021. Cubebox, which got high points among ten thousand projects from 52 countries, based on five main criteria determined as "idea, suitability, form, aesthetics and functionality". As an event organized since 1954, iF Design Award 2021 is considered as the most prestigious competition in the world. Its results will be determined by the final jury evaluation to be held between March 29th and 31st, also its award ceremony will be held on May 10th in Berlin.
They like such qualities of our 'native' Cubebox
The robotic automation system Cubebox, which provides industrialists the advantage of getting both quality and quantity, also saving time in production, leads to 50% rise in productivity, is taking attention with its form that allows easy installation and ergonomic transportation in production areas. Cubebox, which presents factories the chance of working 24 hours a day without an operator on night shifts, ensures that production is occurring fast and in compliance with related standards.
Providing 50% more efficiency to companies engaged in production manufacturing mainly in automotive and defense, aviation, medical and machine production subsectors, Cubebox can also be used as a perfect match with all CNC machines thanks to its standardized design. Cubebox, which provides automatic full support for benches and prevents operator based mistaken breaks, eliminates problems caused by the lack of operators who don't know the program well, as it does many works by itself with its smart operating system. With this feature, Cubebox partially solves one of the problems that Turkey is facing with; lack of operators who know programming in Turkey, as well as it costs 20% cheaper than company-specific robotic systems. In addition, it can be easily used by any operator and adapted to any language with the aid of its local control unit ROBOCAM. Thanks to this ROBOCAM, Cubebox can be easily integrated into any machine and allows use without any knowledge about the program.