TEZMAKSAN's first move to Industry 4.0: Robotic solution offers
TEZMAKSAN holds its seat at the top in machine tools industry with its solutions to manufacturing sector. Leading by Electrical-Electronical Department, TEZMAKSAN's know-how knowledge in the field of robotic automation provides solution offers to the manufacturing sector. We had a talk with Mr. Muhammet Bozkır, Head of the Electrical-Electronical Department of TEZMAKSAN on such a solution offers.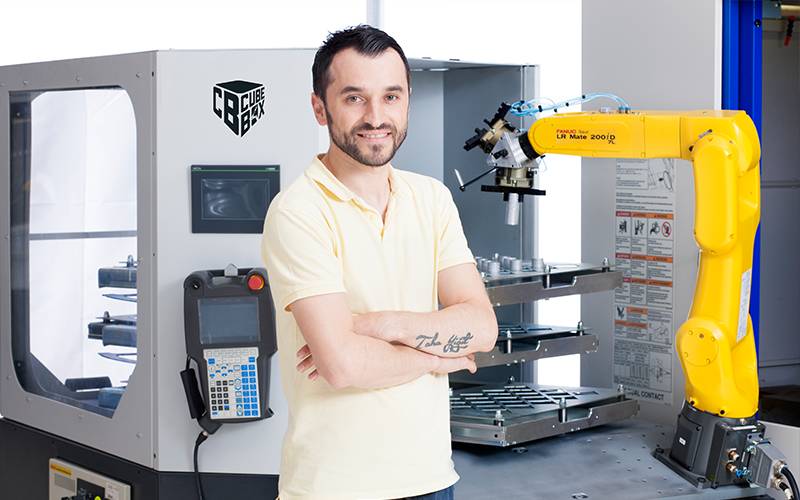 Why did TEZMAKSAN start to create robotic automation solutions?
As TEZMAKSAN, we have concentrated on robotics automation solutions since 2014. A while after involving robots in their systems, companies served in manufacturing sector can realize that they have issues on enhancement and security. TEZMAKSAN aims to minimize adaptation problems by creating solutions in this field by taking advantage of its know-how on robotics automation.


What kind of advantages do solution offers you provide as TEZMAKSAN in robotics automation systems bring to manufacturing companies?

TEZMAKSAN, with its robotics automation solutions, constitutes a step-by-step approach by providing the infrastructure service in the transition process to Industry 4.0. It steers robotic automation with intention of providing adapted customers to the Fourth Industrial Revolution. New investment and training plans are created within TEZMAKSAN towards this intention.
Companies that use robotics automation service can calculate how fast the produced part will be manufactured with exact results as long as there is no defect. Because robotics automation and human factor are disintegrated from the system. Production of man-induced defective parts is minimized. Even if all advantages were left behind and only production of defect-free parts is considered; only this can convince us to adopt the full power of this system.
For sure, cost advantage of robotics automation systems implemented with the solution offers of TEZMAKSAN should never be ignored. When we consider elimination of labor cost and continuity of manufacturing, we encounter a great cost-saving for manufacturing companies.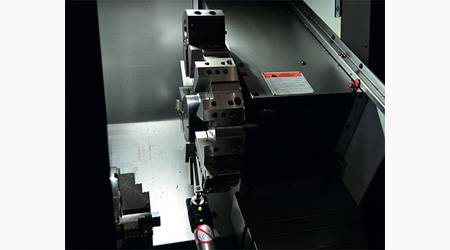 Can one robot perform miracles in manufacturing area?

Company's needs determine what one robot can perform in manufacturing area. Company informs TEZMAKSAN's Electrical-Electronical Department about the product type, which products will roll off from the production line etc. and our department creates a process and design according to customer's need. This means that process starts with determining the need. And subsequently, we provide solution offer according to the need.
Could you please tell us about a model application that you implemented under your robotics automation systems solutions?

For example the customer says, "By integrating the robot into the system, we want tools to wear without any intervention and the automatic replacement when they are dull and, in this manner, we want to ensure the continuity of manufacturing". For sure, first, we understand the expectation of the customer regarding the work to be done. If expectations are reasonable, we provide solution offers by showing supplements and sample cases. If accepted, we give start to our operation. The Goodway Machines that we sell have Load Monitor feature which signals the stress and as well as Tool Life feature which is optional in the Fanuc control system but standard in our Goodway machines. We created solutions by collaborating with Renishaw company.
Could you please explain how you integrated this system?

We performed a macro program application together with Renishaw company. We made this application to work in a way synchronously with Load Monitor, Tool Life, Machine PLC, and robot. For example, when stress alarm signals, the system continues with the process, but saves the stressed tool in its memory. It waits for the completion of the machining end and then this information is transferred to the robot. The machine calls the tool that it has memorized since the measurement is to be performed; the robot takes the tool and waits for the machine to complete the measurement process. In this application, if dullness is within the tolerance we have given, new tool measured replaces that set. If it is not in the tolerance rate, it automatically activates the spare tool existing in the machine turret in place of the dull tool. Additionally, it also detects broken tool inserts. It also checks tool life, informs the robot that the life has ended, and shows the robot on the screen as a warning that the robot needs to stay on hold position and tool inserts need to be replaced. This way, before the implementation of this application while system was able to operate for 8 hours, now it can operate non-stop for 16 hours. At the same time, quality control process can be performed during manufacturing.