Ege Fren is ready for Industry 4.0 with TEZMAKSAN's robotics automation application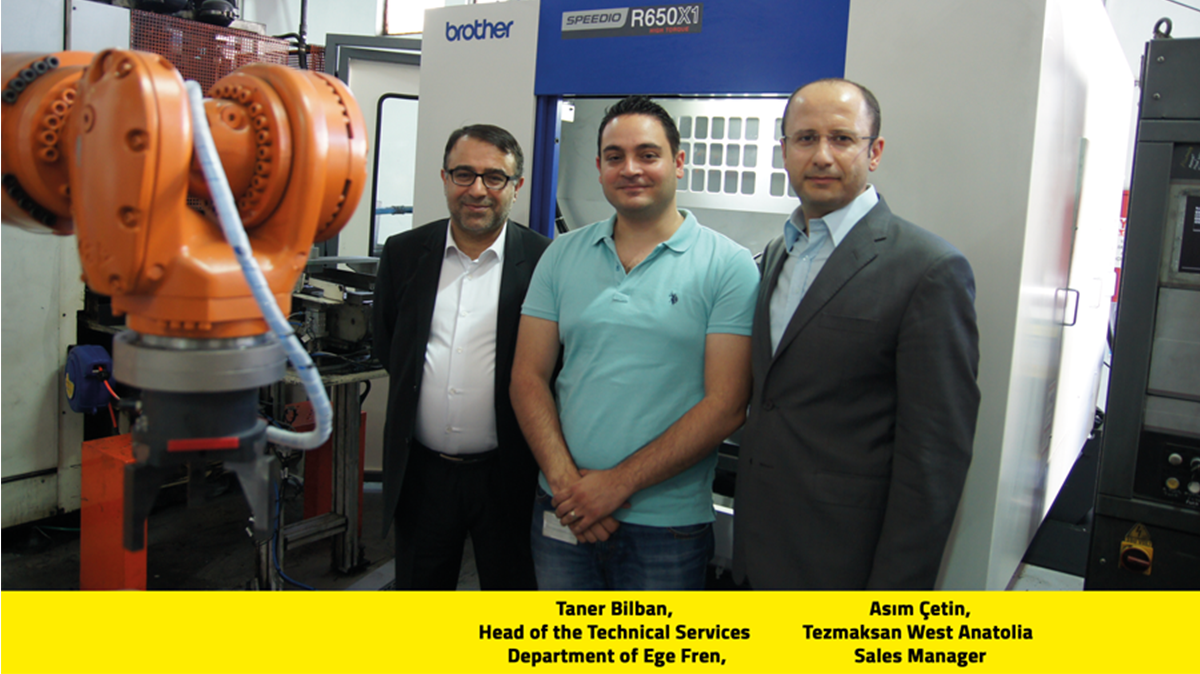 TEZMAKSAN carried out another robotics automation project on which it proves its engineering knowledge. Integration of Brother R650X1 and Kuka brand robot is achieved in Ege Fren. Serkan Buran, Head of the Electrical Electronical Department, who supervises the project explained the integration process in detail.
How did the process start? Which stages were the most important during integration process?

We implemented many examples of robotics automation integration. The offer came from Ege Fren. To discuss the project, we visited the company together with Ersoy Murat Bahçetepe, Product Manager and Burak Gürbüz, Training Installation Department Head of Brother. We tried to determine customer's needs. We developed a plan for the automation and improvements in the machine in accordance with customer's needs. Thereafter, the procurement of required equipment was carried out and the installation of the products were performed. This was a period of 10-15 days. Most of this period was spent for the control of security system of the machine which we intercommunicate with the robot. Because if we encounter a problem in the communication between the machine and robot, both the machine and robot can be damaged, and our efforts can go for nothing. All possible options should be identified, added to the system and precautions should be taken.
Why is robotics automation integration needed in large manufacturing areas?

With this robotics integration, our customer aims to save on labor force, time and reduce costs. Besides, our customer wanted to take a big and substantial step for the shift to Industry 4.0, which is a necessity of our times. Robot and software were key factors for Industry 4.0 driven lights-out manufacturing. Carrying this vision, Ege Fren got support from TEZMAKSAN for robotics integration. Thus, TEZMAKSAN's being one of the leading companies in the sector in Industry 4.0 is certified.
Could you please compare pre-system and post-system periods?

Before this integration, processing time for 1 piece of brake disc by our customer was over 6 minutes and additionally, with size control, wedge opening, brand adding, this duration was reaching to 25 minutes. With the system we have implemented with our Brother machine, 4 brake discs are processed and operationalized in 6 minutes. We reduced the total time for 4 pieces down to 13 minutes together with size control, wedge opening, brand adding processes. In other words, we cut down time in half.

Taner Bilban, Head of the Technical Services Department of Ege Fren:

We looked for a proactive device for our manufacturing plant. Regarding our commercial questions, TEZMAKSAN was the only company we received answer from. When we analyzed the machine, we have noticed that it was rapid and with better table speed compared to the others. We understood how perfect the machine is by looking at the feedbacks from other firms using this machine. It means that we take reference from other firms' satisfaction preferring the technology and integration. Ersoy Murat Bahçetepe, Product Manager and Burak Gürbüz, Head of the Training Installation Department and Serkan Buran, Head of the Electrical Electronical Department of Brother showed their competences on technical knowledge regarding robotics automation applications previously implemented by TEZMAKSAN. We converted to a large extent our manufacturing area in accordance with this integration. We began to this project by dreaming a system which improves the productivity, increases the number of part machining, provides a saving from labor force. Step-by-step, we are getting closer to this dream with robotics integration. The best part is this integration is going to pay itself in a term as short as one year… We will be rewarded for our investments in 2016 and 2017 by this way.