11 robots and 34 Machines Communicate With Each Other from a Single Point
Stating that they have commissioned a project to a company operating in the automotive supplier industry in which 11 robots and approximately 34 machines in total communicate with each other virtually from a single point, Tezmaksan Innovation and Advanced Technology Solution Engineer Muhammet Bozkır states that with the project, foundations of the factory have been laid towards becoming a smart factory.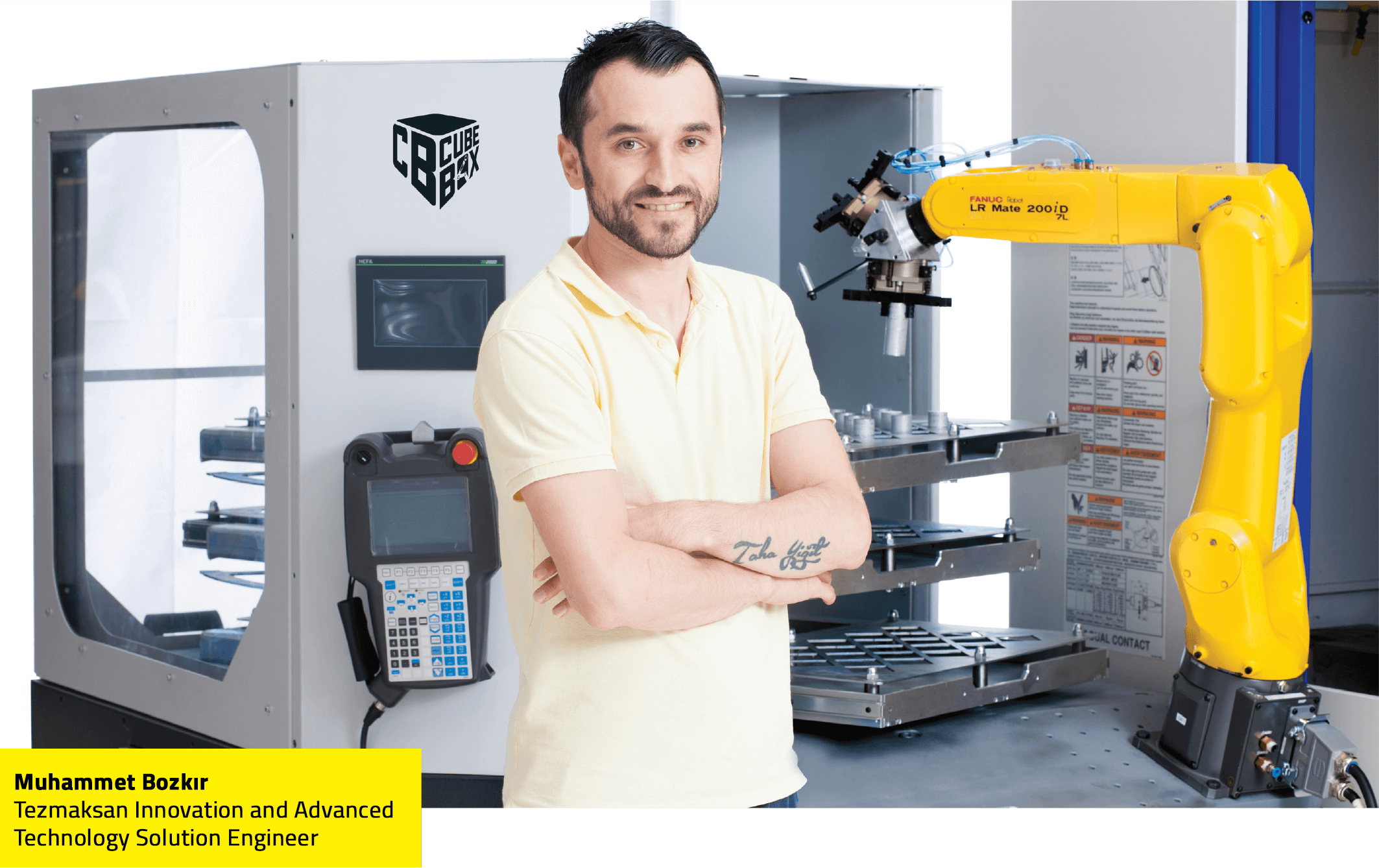 Tezmaksan, one of the leading companies in the machinery sector, realizes various robotic automation projects in different sectors in addition to its domestic and national products Cubebox and Kapasitematik, which is offered to industrialists focused on Industry 4.0. Expressing that the foundations of the smart factory were laid with the project they carried out in the factory of a company that produces camshafts in Sivas and exports to 80 countries around the world, Tezmaksan Innovation and Advanced Technology Solution Engineer Muhammet Bozkır states that a total of 11 robots and approximately 34 machines can communicate with each other virtually from a single point.
We talked with Bozkır about their work in robotics automation with Cubebox, which allows factories to work without an operator, provides 50 percent efficiency to manufacturing companies, especially during night shifts, and Cubebox, which is installed and put into use in a day, and the production tracking software, which allows business owners to monitor their machines from any environment with internet.
What are the differences of your two new domestic and national products, Cubebox and Kapasitematik, compared to products abroad?
We benchmark (price comparison) in the system we developed. We act with questions like "What kind of an answer does the system we build get in Europe, does it meet the price expectation, can it be of the same quality?" The products we use and the workmanship we do are no different from those produced by a German, Italian or French company. I can say even better. Therefore, it is inferior in terms of price-performance. That is to say, while similar systems are around 100 thousand euros with the robot, our workmanship is a little more convenient and we have added our know-how, so we have reduced their costs and emerged with a price competition of 50 thousand euros.
We aim to get a big cake in the market with the advantage that this price competition gives us. We are constantly improving our project and making updates. We are constantly thinking and working on what we can do differently, how we can improve .
What kind of R&D process did Cubebox and Kapasitematik go through?
Our R&D Department was established about 4 years ago. Since we started the technology rental model and rented machines by transferring technology, we thought that we should provide R&D services to our customers. We provide this to our customers when they rent spare parts and all services of the machines we rent. However, you also need to track the machines. We need to take action by receiving prior feedback, such as how our customer uses it, whether we need to perform heavy maintenance in the fifth month or routinely in the sixth month. In order to facilitate this work, our management took a step and created Tezmaksan R&D Department. Our R&D department consists of our expert and valuable teammates. Then, we enlarged our team and primarily commissioned the Kapasitematik system on these machines. Based on the machines he rented, one of our customers said he wanted to integrate his other machines into the system. We submitted the request to management and made a decision that it should become a product. We've grown our team even more. It also received full support from our domestic companies and was met with interest.
What are you aiming for at this point?
First of all, everybody buys machines and works, but can they use their present and purchased machines efficiently? Can operators use it correctly, efficiently, or are operators inefficient due to the business process? Regarding company's efficiency, operators are working correctly, but when there is an error in business planning and workflow, they can be inefficient. We have offered such a solution to our customers in order to avoid such problems. In fact, we have developed a software platform for the continuation of the work with the help of predictive activity by measuring how much capacity you have with our existing machines and receiving feedback from our customers about whether or not you really need machine investment.
What advantages does Cubebox provide to its user?
It gives the following advantage to the companies that buy this project. In general, when you project a robot, the process can be extended when you switch to an automation system and then again to a new part or a new setup. We have worked on how to add this process to production and use lost time efficiently. In these studies, employees who use and program the robot should also be trained, high-level people, which is a big deficit in the market in this regard. You don't have much access to people who program the robot, or you can't use it in your work too much. For this reason, we have thought about how we can make it easier and more enjoyable without using the device that you program the robot to produce solutions for companies. In this context, we developed a software called industrial bpc and included 2.5 axis CAD software in it.
"Everybody buys machines and works, but can they use present and purchased machines efficiently? Can operators use it correctly, efficiently, or are operators inefficient due to the business process?"
Thus, we have enabled users to manage the machine, PLC, Cubebox and the whole system from a single location and program them easily. Our customer can solve his own business in as little as 5 minutes without calling any automation company or us when he moves to the new workpiece. In this regard, we have received very positive feedbacks from both domestic and foreign companies. You can process any part in certain sizes, 30 and 150 diameters. We continue the second part of the project. Now we are developing varieties for larger diameters. All the documents needed to work in the industry have been completed. Its patent, CE certification were obtained. It has now come to the stage of becoming a product and offering it for sale.
It saves time and ensures continuity in production.
Of course, you can work 24 hours a day. Installation also takes a very short time, you can activate it in 1 day. Because we have been in the industry for many years, we know how to put it into operation and we have mastered how to do the process, we can easily put it into operation.